B2B Marketing Automation: Streamline and Automate Your Marketing Tasks
Engage the right audience at the right time with B2B marketing automation.
LeadGen Compass uses Ontraport, a sales and marketing management platform with powerful automation capabilities. Ontraport will give your sales team more insights into prospects and your marketing professionals will be able to drive more qualified leads to your company. The power of Ontraport is that it stores all of your sales and marketing data in one place, making it the perfect control center for running your campaigns. All of the tools you need to quickly obtain valuable insights and optimize your campaigns are included.
Contact a Marketing Coach at LeadGen Compass for specific examples about how to use marketing automation and tools like Ontraport in your business.
Or click on the Ontraport Free Trial Banner (or this link) to get started on your own.
B2B Marketing Automation Best Practices
Email Automation Send personalized emails with triggers and build better relationships with leads.
Dynamic Forms Capture more leads with forms designed to recognize prospects and increase conversions.
Sales Notifications Immediately notify your sales team with email or text when a lead shows indications they're ready to buy.
Social Media Management Publish and track your social media campaigns with a single integrated social media tool.
Behavior Tracking Build an understanding of who your leads are and what their communication preferences are creating one-on-one communication.
VisitorID Triple your insight into leads by identifying anonymous traffic earlier in your sales cycle.
Lead Scoring Use customized lead scoring to prioritize your sales team's outreach, improving pipeline management.
CRM Integration Immediately plug sales qualified leads into your sales team's system, separating and prioritizing follow up activities.
A/B Testing Segment your audiences and test emails head-to-head to see exactly what works the best and when. Eliminate spray and pray marketing.
Campaign Optimization Learn from your prospects about how they want to be approached, eliminating waste and identifying more opportunities.
Get Your Copy of the Marketing Automation Playbook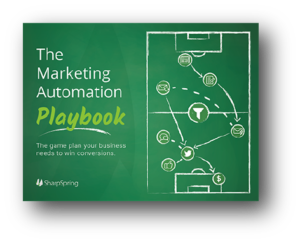 Marketing automation gives you the power to generate more leads and drive more sales all while giving your customers personalized communication based on their interests – so they receive the messages they actually want, not the messages you think they want. Learn more in our Free Playbook!